The development of internet business is pushing companies to search for universal tools that would successfully compete in the market. For this reason, the Salesforce platform gathers around itself new communities of business customers and developers of software solutions. Not so long ago, a third meet up was held in Minsk, where representatives of software companies shared their experience in developing effective tools based on Salesforce. One of the speakers at the event, Tatyana Agurkova, an Artezio certified Salesforce developer, talked about new prospects of using a popular CRM system. 
Q: Do you think that developers will express growing interest in the Salesforce platform? What are the reasons for that?
A: Demand creates its own supply. Businesses are interested in Salesforce, it is the most popular CRM in the world. And if the brand has been popular for a long time, then people trust it. Many small and large companies use Salesforce. According to Gartner reports, Salesforce has been a leader in its field for the tenth year in a row. In its turn, the demand for Salesforce products creates demand for specialists with such expertise.
Q: Is it necessary to give training seminars on Salesforce for developers, build a professional community?
A: In the age of the Internet and the instant spread of information, it is hard to complain about the lack of information. But it's one thing when something happens somewhere far away and you just get echoes in the form of video clips from conferences, and quite another when you can discuss questions in person, in a circle of colleagues and specialists.
Salesforce is doing everything possible to create environments where developers can exchange experiences on a regular basis. Local salesforce developer communities are created around the world, and a Dreamforce conference is held once a year in San Francisco. Representatives of communities from all over the world come to this important event. By the way, this year the Salesforce community began working in Belarus. A special internet resource has been created where you can read articles published by the community members and learn about upcoming events. In addition, anyone can ask questions to experts.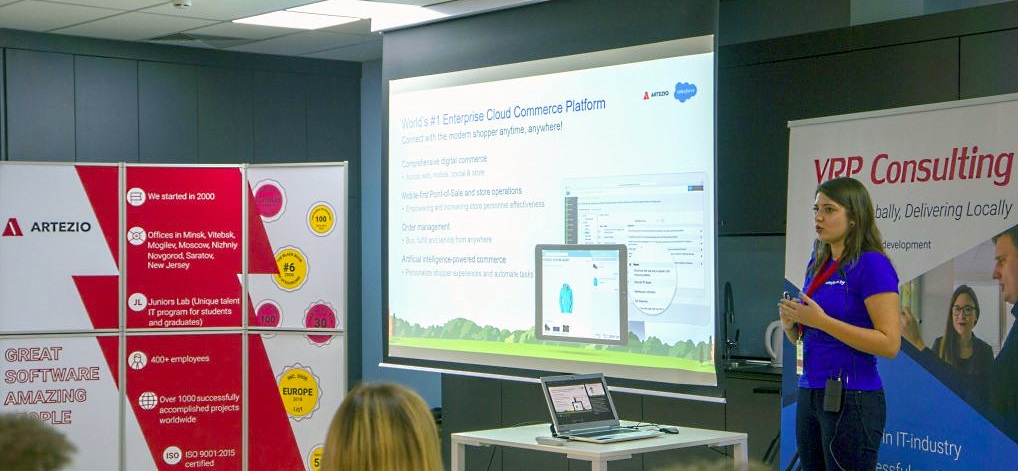 Q: Is Salesforce as a company interested in developers' training? Does it help with project work?
A: Salesforce created a free resource called Trailhead for those who would like to learn more about the platform. It is built in the form of tutorials. That is, it is not just dry engineering text, but material in the form of games. In this case, after studying any topic, you can test your knowledge through a test or an interactive task. For each module that is completed, a trailblazer, this is what those who do something cool in Salesforce are called, get a badge. For a certain number of points, the rank of a participant is changed. This all boosts beginners and experienced developers to gain new knowledge.
In addition to this rare educational approach, Salesforce conducts paid training courses around the world. There are also remote sessions that can be held right from home. Their goal is to acquaint people with the basics of developing in Salesforce and prepare them for certification in the traditional form of lectures and practice. For experienced developers, seminars are held where Salesforce insiders share design experiences and best practices. And of course, we should not forget about Dreamforce – the annual big event in the world of Salesforce development, where trailblazers not only share their experience, but also get inspired by new projects.
Q: Is Salesforce in high demand among customers? Which ones? Should software companies focus on Salesforce expertise in the near future?
A: Salesforce expertise is one of the fields that should be focused on. After all, any business is interested in being chosen among a large amount of competitors and alternatives. This is not an easy task today.   If there are no major differences between a product and service, or competitors have a similar offer, then there should be more differences in how you do business and offer goods. Salesforce provides a huge toolkit for companies to show their attitude towards the customer as the most important element of their business.
As one of the examples of Salesforce products, I can mention a cloud-based CRM, which allows you to organize the work of sales departments (Sales Cloud) and support (Service Cloud) in one place accessible from any device anywhere in the world. With the help of artificial intelligence, this CRM can predict customer behavior and the chances of closing a deal. Of course, every business is unique. Therefore, not everything that works for some businesses will work for others. But Salesforce provides a huge set of tools that help you customize the platform individually and create your own solutions based on it. And at this stage, we need developers who can implement business ideas and help tailor Salesforce capabilities for specific tasks.
Q: How high is developers' interest in Salesforce in Belarus? Can we say that software companies are actively interested in this platform?
A: I wouldn't say that for Belarus Salesforce expertise is something new.  Many developers have known Salesforce since 2008. But in recent years, the interest in the platform has really increased. The growth and development is indicated by the Salesforce developer community, which has recently been rapidly expanding, extending beyond the limits of local meetings. But not only software companies and developers are interested in this platform. Very often, special technological meet ups are attended by business representatives. They are ready to invest in new solutions that will help draw attention to their brand. We should not forget about the efforts of Salesforce itself, which does not stand still and develops products, making them comfortable and up-to-date. The company closely follows the latest trends and cares about its customers' opinions.